Sun, 04/17/2011 - 12:35

—

Fodder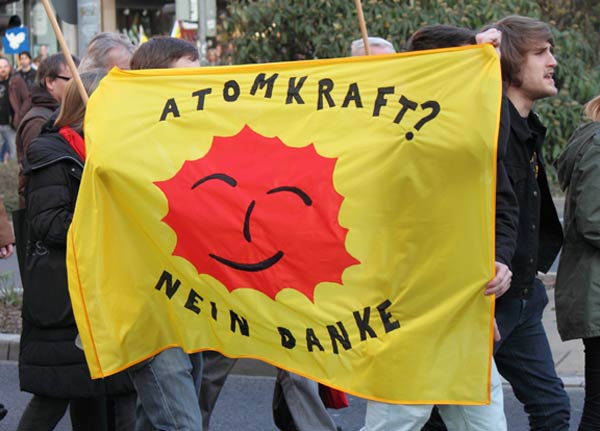 Just a few months before the disaster at the Fukushima Nuclear Power Plant, Angela Merkel's coalition government passed a bill extending the lifespan of Germany's 17 nuclear reactors 12 years beyond the formerly agreed-upon end date of 2022.  In the wake of the Fukushima disaster, with seven older reactors shut down as part of a moratorium to review safety measures, energy companies and the government are issuing wildly conflicting reports on just what a nuclear phase-out will cost. 
Following this schizophrenic story can be maddening.  According to the German Institute for Economic Research (DIW), the transition away from nuclear energy will cost up to EUR 200 billion.  Just this last week the German Economy Minister Rainer Brüderle reported that the nuclear pullout would cost a mere EUR 1 or 2 billion,  but energy company RWE said that future profits would more than make up for the cost of shutting down their Biblis reactor. 
But wait!  RWE also reported this weekend that it would cost hundreds of millions of Euros to close down Biblis and they are revising their earnings forecast to account for the current moratorium.  Compare that to E.ON which is not revising forecasts because they don't foresee additional costs.
How can they be talking about the same situation?  Does it matter?  The public nature of this frenzied debate doesn't mean it has any relevance to policy.
The original decision to retreat from nuclear power wasn't an economic decision, it was an ethical decision.  The risk of nuclear catastrophe and the problem of storing dangerous spent fuel for the foreseeable future of civilization were argument enough to permanently shift Germany's energy policy away from nuclear power.  The current debate about costs appears to be a straw man, especially in light of a survey by Bild am Sontag showing that the majority of Germans are already willing to pay more and make lifestyle changes for clean, nuclear-free energy.  Even shareholders, like the majority stakeholder of nuclear utility EnBW, are calling for a transition to 100% green energy.
Another unanswered question is how exactly the costs have grown to such proportions based on a 6-month old policy.  The decision to extend the lifespan of the nuclear plants was made last September.  For a decade before that, the 2022 date was fixed in stone with projections for energy creation and costs for suppliers revolving around a timetable of only 10 more years of nuclear power.  Building energy capacity takes years, but consumers are expected to believe that any changes in plans for new energy developments made in the last 6 months should reasonably cost them billions of Euros.  Why isn't the legitimacy of these claims being called into question?
Capacity is also something no one seems to agree on.  At first it was reported that Germany would have to import energy from foreign suppliers as a result of the moratorium, most likely from other nuclear sources.  Days later, the Federal Environment Ministry stated that in spite of the temporary shutdown of eight nuclear power stations, there is no need to import electricity- Germany is self-sufficient.  With a shortfall expected for May, will we see the same backpedalling?
The media and the energy industry are eager to report on potential shortages and make a spectacle of any possible cost increases for consumers.  Again government is out of step with industry reporting.  President of the Federal Environmental Agency (UBA), Jochen Flasbarth, considers it possible to finish the phase-out by 2017.  That's five years ahead of the current target and he thinks it can happen without significant increases in consumer fees.  The Federal Environment Minister, Norbert Röttgen, expects a moderate increase of 0.1 to 0.9 cents per kWh over the next few decades.  That's decades folks.
And of course none of this takes into account energy savings that could result from new efficiency measures in a highly regulated business and consumer market.
Germans following the public debate may be losing sleep over their next energy bill, but the fact is there isn't much to worry about.  If the nuclear phase-out causes any discomfort, it's likely to be minor.  Germany is well prepared to transition out of nuclear power.  It's had a decade to prepare for this; it's the 2nd largest investor in green energy (largest per capita).  Now that the Fukushima disaster has tipped the scales of public opinion, Germany is in position to lead the developed world into the post-nuclear era.  Bickering over cost and capacity in the media is just noise.