Fri, 04/01/2011 - 11:20

—

Fodder
The streets of Neukölln are a battlefield.  Berlin's most diverse, most rapidly gentrifying neighborhood is at war.  A lot of newspapers are sold with the story that it's us immigrants at odds with our German host or that we're fighting unemployment, but it's not: its the dog shit.  And my neighborhood, the Körnerkiez, is ground zero.  Today the children took to the streets to fight a seemingly insurmountable foe, hundekacke.
It really is bad here.  I love our neighborhood, or as we say in Berlin, Kiez.  Our kiez has beautiful parks, play areas for kids, is safe, and is getting more and more arty by the week.  But while we never fear for our physical safety, the same can't be said for our footwear.  The 8-minute walk from the subway to our building is like an obstacle course, or maybe a minefield.  At night, it's almost a lost cause. 
We actually know someone that used to live in our little corner of Berlin who moved away for no other reason that the dog poop- it's that bad.  The worst part is, that it seems like no one actually cares.  I never see anyone walking their dog with the necessary equipment to keep the streets clean.  But today, I was heartened to see the kiez come together and make their voice heard.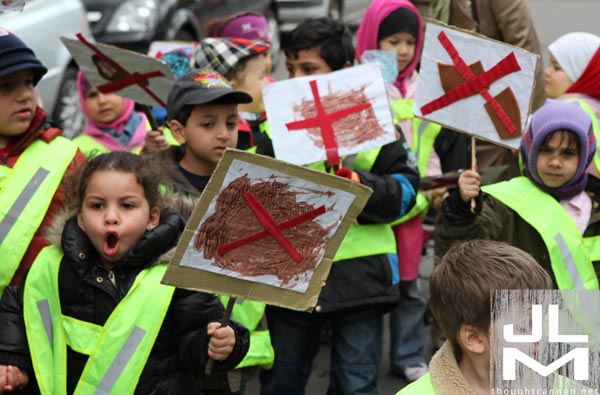 Hundreds of kids gathered from the nearby schools, kindergarden, and play groups at the elementary school across the street from us.  Hundreds.  The scale of it was pretty awesome.  Nearly every student had a sign or a makeshift drum or something to get their point across.  For most of them the message was simple, "Nein zu Hundekacke."  No to dog poop.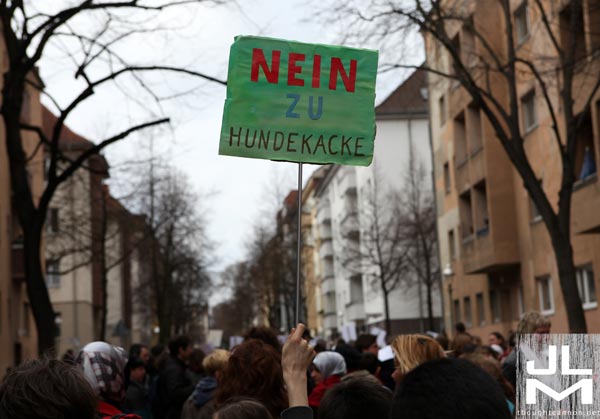 sa
With the roar of drums and screams we marched up and down the kiez streets as people peered out from windows and balconies above.  Somewhere in the neighborhood of 30 police officers blocked traffic and kept us safe.  As we paraded, lots of other people from the neighborhood joined in and even chanted along with the kids, "Schieße weg! Scheiße weg!"  "Go away shit! Go away shit!" 
Small children say shit all the time in Germany; it doesn't have quite the same profane weight as it does in the States.
Sidenote about the police, who were very nice.  No matter how well-meaning, it's scarry as shit to have a German police officer ask you if you're from the press and why you're taking pictures.  Those uniforms, the leather, they supercede any good intentions.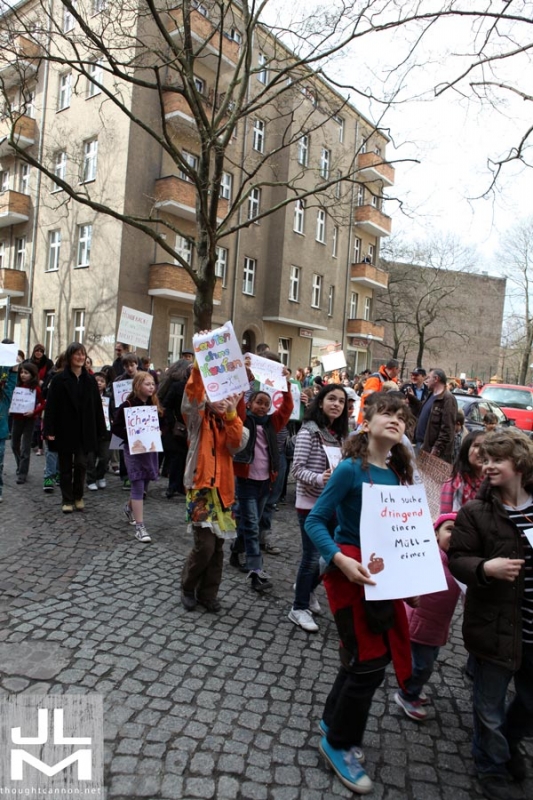 The parade ended in a giant assembly atop the Körnerpark with songs and speeches.  I was very impressed by how well-behaved all the children were and how attentive and passionate they were about the cause.  Several students made speeches, read poems, and sang songs they composed- all of them were very good in my opinion.
Then they gave out the results of their 2-week long dog poop project.  In the two weeks leading up to today's demonstration, the students of the Peter-Petersen-Grundschule across the street counted every single piece of dog shit on the sidewalk, then marked it with neon spray paint.  My dad used to do this when I was a teenager (not the counting) and let me tell you, it's very effective.  So maybe you were thinking it wasn't such a big deal before, well here are the stats. 
Keep in mind, each one of these streets runs at most 5 city blocks (stats are as best as I could remember them by the time I started taking notes).
Ilsestraße (my street): 500+ piles
Jonasstraße: 330 piles
Schierkerstraße 800+ piles
Selkestraße 530 piles
Do you see now while the rest of Germany is protesting against nuclear power, my kiez is protesting dog poop.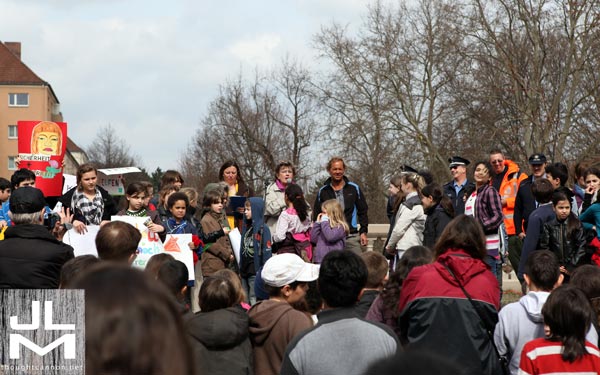 By and large everyone was really upbeat about the whole thing and the kids who made speeches tried to stay really positive about making the neighborhood beautiful.  Of course, no protest is complete without a fringe element set on confrontation.  Thought the boy below nearly peed his pants when that little dog turned around to bark back at him.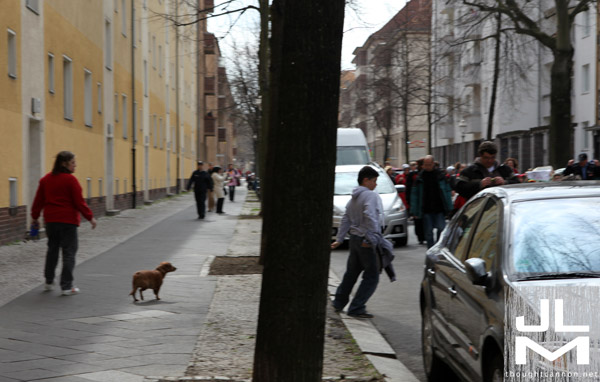 The kids from the Muslim school were probably the cutest ones there.  And their visual metaphors the most literal.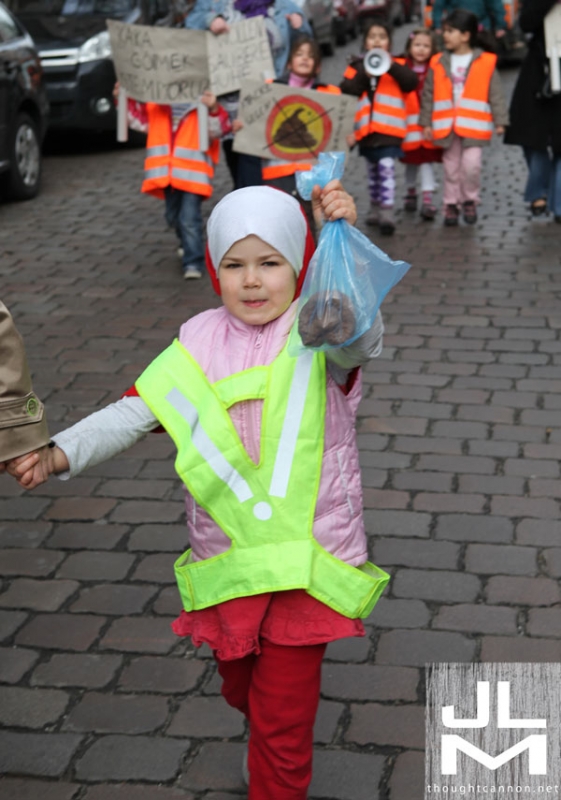 It could just be that the weather was amazing, but if you would have told me that there would be this much excitement over dog crap, I really wouldn't have believed it.  Not just the kids, everyone involved, were beside themselves.  Even the cops were smiling and joking.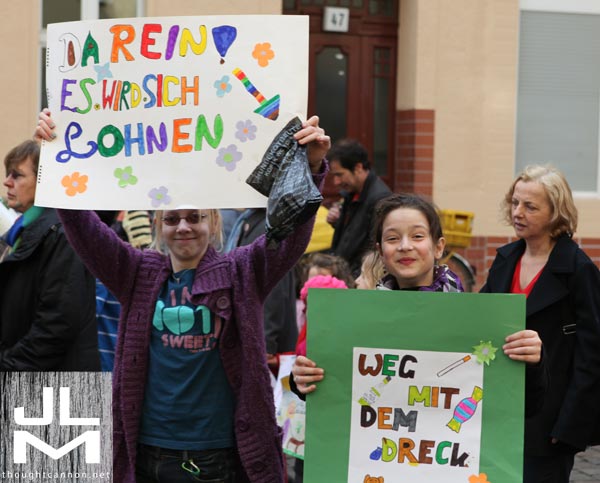 One of the reasons I absolutely love my kiez is because of the ethnic diversity here.  Our burrough of Berlin, Neukölln, is the most diverse area in all of Germany.  One thing that was really nice about the event was to see in technicolor how the school kids here represent cultures from all over the world.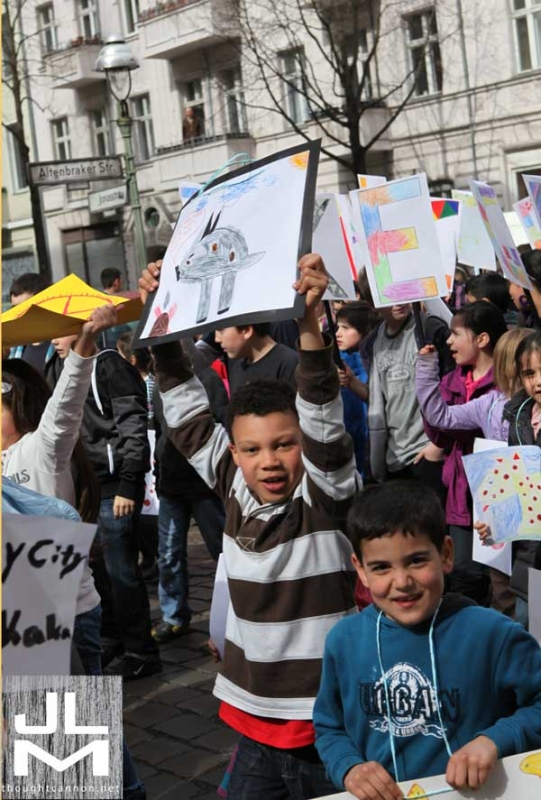 This kid led the parade the entire time.  Then when we assembled for the speeches, he stood right in front on the dais and banged away.  I'm suprised that water-bottle drum wasn't just a pile of dust by then.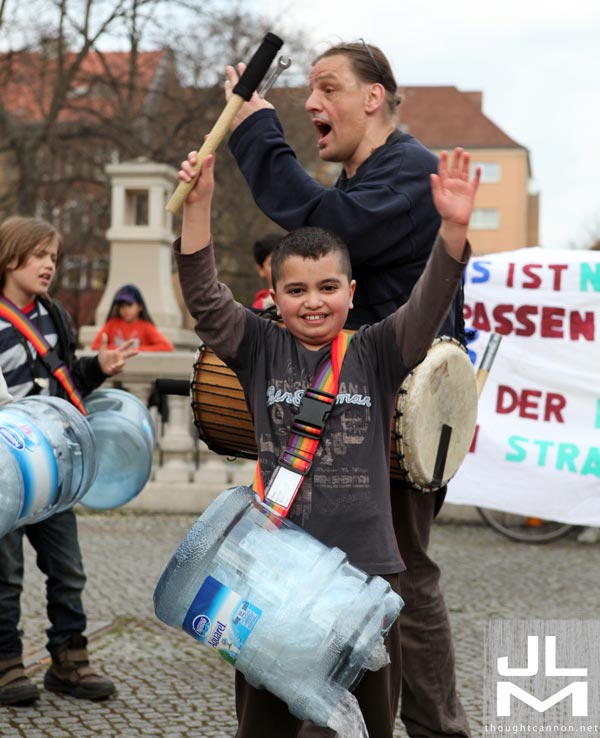 Last but not least, the schwag.  I'm really surprised just how organized and professional this protest was.  I guess it's Germany though, so I should stop being impressed by things being organized.  Seriously though, it made me feel great about my neighborhood and I really hope that dog owners got the message- the kids are just not going to take it anymore.