Mon, 04/04/2011 - 15:04

—

Fodder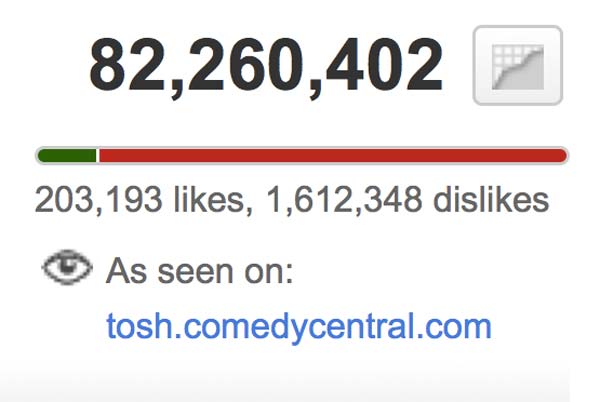 As a prolific poster of much-enjoyed (and modest!) Facebook status updates, I thought I would provide some helpul hints for you so that my news feed is more interesting to read.  This first feature provides tips for posting content that gives the impression that you are hip on Internet trends instead exposing how painfully unaware you are that there is an internet beyond Facebook and the Food Network Online.
Here's the situation: So you just saw that awesome reaction video to Rebecca Black's "Friday," you laugh, you click share, you look like a total dope. Guess what, that happened more than 2 weeks ago. 
Think of Internet time like dog years, that was like 14 weeks in Internet Time.  Worse yet, there was already a network television response.  Regardless of what you look like in your profile picture, if you post something that has already been covered by network television, people will assume your age is over 60 and your IQ is under 60.
If you aren't sure that what you're posting isn't bleeding edge new content, then follow these simple steps before you share and you can avoid the common pitfalls of posting tired, web-worn content.
Get the Sauce
Make sure what you are posting is the original post, article, video, whatever.  It may only seem new because someone has decided to repost something that has been around for days or weeks- usually without attributing the original creator/poster.  Once you have the source (or sauce as Internet hipsters call it), you can continue.
Check the Date
Remember people, dog years.  A two-week old post or video is worthless for the same reason that the Internet is killing long-form journalism: the always available, instant-access Internet does not have time to stop and ponder.  If something you see is older than two weeks, it's officially dead.  Not the meme, but the piece of content itself. Remix it or don't post it.
By the Numbers
I'm going to pull a random figure out of my ass and say that if more than 250,000 people have seen it, then it's dead.  Either your friends have seen it or they know it exists and don't need you to tell them about it.  If it's less than two weeks old (see above) and already has that much of a following, then the HuffPost has probably already done a piece of it.  It's dead.
Check the Facts
If you're amazing story is too amazing, then it's probably not only not real, it's probably not new.  Check Snopes.com to make sure that you're not just perpetuating a new version of the same old bogus meme. 
Note: a Snopes-related status update fail is the most embarassing of all and should be avoided at all costs.
Know Your Meme
Know Your Meme is an invaluable site.  They track Internet content that goes viral, internet communication trends, and publish great research on everything from why the world haz cheezburger to where you can find the first Charlie Sheen remix.  They are great for helping you get the sauce and making sure your link is genuinely new and doesn't fall in the middle of a meme's timeline of remixes and reposts.
Use Facebook Search
Last but not least, check to see if one of your friends has already posted.  Type in the headline or good keywords and see if a Shared Links section appears in the drop down.  If someone you know has already posted the same or similar content, it's best to piggy-back on their link by clicking share from their post.
This is important on several levels. Readers don't like to see repeats on the news feed.  Original posters don't like it when they see you skipped their post and shared a link that doesn't give them a nod.  Most importantly, a link carries more weight, and has more news feed visibility, when several friends endorse exactly the same link.
If your post passes these tests then you've probably got a scoop and you'll look mad cool when everyone reposts the radical badness you've hepped them to.  Score some reposts with a snarky comment and you can climb out of news feed obscurity for good.