Sun, 04/03/2011 - 02:28

—

Brian Pifer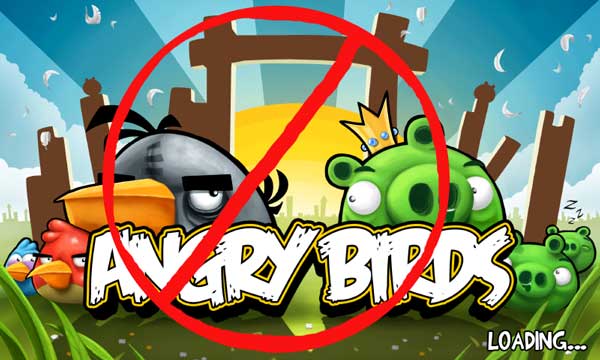 There's nothing wrong with Angry Birds. It's a well-designed, highly addictive game that is simple and intuitive enough to appeal to the masses. Bravo, Rovio. Golf clap.
Problem is, the Angry Birds machine is out of control, sucking limited consumer dollars away from other, equally deserving independent game developers. You want to know how the developers came up with the locale for their latest release, Angry Birds Rio? They all probably vacationed there during the cold Nordic winter. Rovio's gotten its millions -- it doesn't need any more.
If you don't branch out and give other titles a shot, you'll be stuck tearing your hair out trying to get that third star on Angry Birds: Timbuktu, because other developers will fold out of frustration and lack of funds. Don't let that happen. Support your global indie game developers. 
Here'e a list of alternatives to Angry Birds to help you do just that:
iPhone
BIT.TRIP BEAT (Gaijin Games, $1): Anyone can play Pong. Think of BEAT as Pong, only taken to the next level. You use your phone like a paddle, bouncing back little blips and bleeps that fly your way. The blips are timed to sync up with a catchy electronica soundtrack, and retro-inspired graphics in the background remind of a simpler time. 
iShoot (Naughty Bits, $3): This a remake of the classic DOS game Scorched Earth. In it, you control an army of tanks on a 2-D landscape that is dotted with opposing tanks. You use an arsenal of missiles -- nukes, MIRVs, homing -- along with other weapons such as flame throwers to crush the opposition before it can crush you. The best part is the insults your tanks deliver after scoring a direct hit. 
Android
Bubble Blast 2 (Magma Mobile, Free): This game has proven to be the biggest time-waster for me. Your goal is to set up a chain-reaction that bursts all the bubbles on your screen in a set number of touches. Sometimes I pass a level through random trial-and-error, especially on the more difficult levels. But for a free (ad-supported) title, you can't go wrong considering the sheer number of levels and options. 
Space Physics (Camel Games, $2): This physics-based game makes great use of the touch screen: Draw any object you can think of to nudge a ball along toward its goal. You can draw hammers, circles, planks and more. The circle recognition can be a bit touchy at times, but overall this is a neat little puzzle title in which you're limited only by your imagination. Try the free Lite version and see what I mean. 
Cross-platform
Doodle Jump (GameHouse, $1): The 'jump' games are almost as ubiquitous as tower defense games on smartphones. Generally, you tilt your phone left and right to navigate your character up a series of platforms. The extra features (jetpacks, platform variation and different monsters that you can shoot at) make Doodle Jump stand out from the rest.