Thu, 12/15/2011 - 17:46

—

Fodder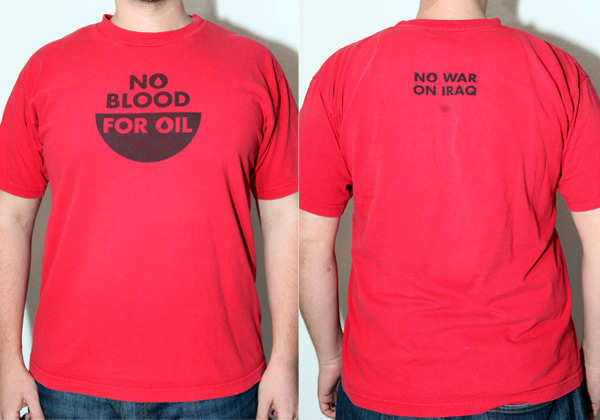 As of today, the war in Iraq is officially over.  So now it's time to retire one of my most beloved pieces of clothing: my No War on Iraq/No Blood for Oil shirt.  This shirt has been with me a long time.  I never thought I would be wearing an anti-war shirt for nearly 9 years.  It was supposed to be obsolete long ago.  However, part of the reason for the message on the shirt was that war wouldn't be an easy thing to get out of.  As much as I've grown to love this stylish and pertinent piece of fashion, it sure feels good to let it go.
I bought the shirt at an anti-war protest on February 15th, 2003 in Santa Cruz, California.  That protest was part of a worldwide coordinated protest against the impending Iraq war where millions of people across the globe made one last desperate cry for peace.  I got the shirt because it had a message I wanted to share the following day in San Francisco where I marched with 200,000 people who didn't buy into the bullshit lies being sold to American citizens and foreign nations about why Iraq needed invading.  It was one of the most uplifting and important events of my life and the experience has stayed with me ever since.  I think of it every time I put on the shirt.
The shirt has been close to retirement before.  There were definitely some false endings.  The whole "mission accomplished" farce made me think that maybe somewhere someone knew more than I did and that maybe, just maybe, things were closer to an end than they seemed.  No dice.  Then Obama won the Nobel Peace Prize.  Surely, President Obama felt as we all did, that he was voted in on a mandate for "Change" and he was going to make good on it.  Sadly, no lost relevance for the shirt.
So here we are.  A hundred thousand people lost their lives and millions were displaced.  America is declining steeply by almost every cultural and economic measure after having squandered $1.3 trillion on Iraq and Afghanistan.  And let's be perfectly clear here, the US isn't leaving Iraq because everything's just hunky-dory there.  It's leaving because it's not wanted anymore.   I'm not sure they were wanted in the first place.
I wrote to Congressmen and Congresswomen, went to demonstrations, I voted for peace in every election (sorry Hillary), and I wore the hell out of my t-shirt.  I guess none of it mattered in the end.  My brother even served a year in Iraq coordinating the logistics to bring everything and everyone home and it didn't seem to speed anything up from the all-too-late deadline set long ago.  And of course, Iraq is not at peace.  That's the worst part.
So now I'm going to officially retire this old friend.  Maybe it's time to get a No War in Afghanistan t-shirt.  I hear they never go out of style.